Concours d'Elegance at Radnor Hunt
I get to go to a lot of events, but this is by far one of my favorites. Gates open at 9am and the event goes to 4:30pm. (get there closer to 9am, there are long lines) Tickets are $50 at the door, but you'll understand why when you stroll around the grounds and see some of the world's most iconic automobiles. Here's a Porsche 959 from last year's show.
Good idea, will it happen in Media?
Kudos to police superintendent, Mike Chitwood for his innovative thinking towards public safety. He's putting together an evaluation committee to review the feasibility of cell-phone sized video recording devices to be used by patrol officers.
Where's the Media 5 Mile Race Money?
People have been contacting me about this for a few weeks, but I don't know the answer. For the longest time it was thought this was a sanctioned Media Recreation Committee event, but apparently it's not. So exactly who is getting all the 10's of thousands of dollars this race generates? What are race expenses and who's on the payroll? Where's the 501c tax return for this group and why isn't is easily accessible?
Penncrest News Network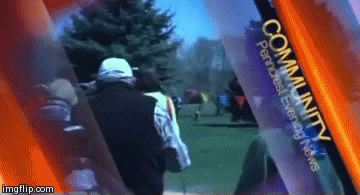 In this day and age of social media and communications, I really like what Penncrest is doing with their student produced daily news video. I hope they can include sport clips and coverage of big school events in the future.
Media Bowl Penncrest vs Strath Haven
Wow, there was a lot hype leading up to this game on social media and even a neat intro teaser by havenfootball.net. Luckily, as a Penncrest alumni, the Lions went on to win a very exciting game at Louis Scott Stadium 27 to 21.
A Boutique Hotel is Media's only chance.
To this day, I still don't know why their isn't one bed and breakfast in Media. There's Sweetwater farm in Glen Mills and Alpenhof in Upper Providence, but nothing in the borough surprisingly.
As for the Hampton Inn that was proposed and zoned 8 years ago, it's not happening. Some are delighted in that news, others disappointed. But the question that comes up, what is Media really doing to facilitate an effort that would bring a hotel? A boutique hotel in downtown Media would work very well, which would probably struggle to have more than 12 rooms, but it's a possibility. Though I doubt there seriousness, there have been rumors from time-to-time of such a project.
Rose Tree Park - Movie Night this Fall
Come out Friday September 19th for Rose Tree Park's "Movie Under the Stars" show that will feature the Lego Movie. Bring blankets and chairs for seating. There will be concessions for sale. Showtime - 7:15 to 9pm.
Reconsidered Home has a Blog Site:
Check out what's hot at Reconsidered Home via their new blog site. Their latest post, "How small is wow"
Atlantic City, Mayor to visit Media for speaking engagement
With Atlantic City making national news over the closing of four casinos and the economic challenge that poses, this speaking event by the city's mayor should be a very interesting presentation. Check out Dom Guardian as he comes to Media on Sept 17th for an event hosted by the Philadelphia Press Club. Doors open at 11:30am. Price: $15 for members, $20 for non-members. Please register in advance.
State St. Surveillance cameras, not "video" cameras
Had it not been for the report in the Delcotimes last week, I'm not sure anyone would have known the borough was considering security cameras for State Street. There was ZERO about this on mediaborough.com, let alone public input that many people have complained has been lacking. Did Mayor McMahon just think he was going to do what ever he wanted, again? How about the numerous questions I raised this week on who, what and how this video will be handled?
I doubt anyone on borough council has the leadership to speak up about this issue and ask the tough questions that MANY people in this community have. They've not addressed anything about this, as social media on the matter has generated hundreds of comments. Speak up, Media borough council!
In the article McMahon speaks of what a great deal this, "McMahon said full scale equipment and installment for such a project could be about $100,000 to $150,000. In this case, the borough has an opportunity to obtain the equipment for an initial cost of $13,200 upfront, and another $18,200 after six months."

I don't have much experience in security systems but this seems way to good to be true, with the article going on to say

"

McMahon felt the much reduced cost may relate to the companies' interest in the Delaware County market."

May relate? In what way?
Last time Mayor McMahon got us an "opportunity" we taxpayers wound up paying $20,000 for what we were told would be a prominent highlight on a national tv show. That never happened and instead we got was a Youtube video that any kid could have done for $300. What's worse, it was brought to the attention of Council President Brian Hall and Mayor McMahon that the company they were dealing was investigated and fined by the Florida Attorney General for fraud, they chose to proceed anyway.